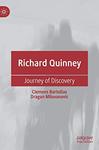 Title
Richard Quinney: Journey of Discovery
Description
This book traces the life course of Richard Quinney, one of the most cited authors in the social sciences and a key figure in the development of critical criminology in the 70s, 80s and 90s. It provides a look into his personal thoughts in becoming a 'radical' criminologist and situates it in his various experiences, questioning, and shifts in his journey through life. Richard has contributed to a profound paradigm shift in criminology, beginning with his book, The Social Reality of Crime (1970), but also to peacemaking criminology as well as peace studies. He has also written several books via an autoethnography approach and has presented a number of photograph presentations for which he has received awards. It traces his early development on the family farm in Wisconsin to his travels in higher academe. It gives a personal perspective in becoming not only a radical criminologist, an accomplished writer in auto-ethnography, visual sociology, and photography but also how his continuous questioning of the meaning of it all came to fruition with profound insights about what it is to be human. The book will be inspirational to not only seasoned veterans in criminology, but also to emerging scholars, to undergrads and grads, showing them the struggles that come in 'making it'.
Keywords
Quinney, Richard, Criminologists -- Biography, Criminology
Publisher
Palgrave MacMillan
Department
Department of Sociology, Anthropology, and Criminology
Object Description
xiv, 222 pages : illustrations ; 21 cm.
Recommended Citation
Bartollas, Clemens and Milovanovic, Dragon, "Richard Quinney: Journey of Discovery" (2019). Faculty Book Gallery. 480.
https://scholarworks.uni.edu/facbook/480