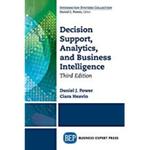 Title
Decision Support: An Examination of the DSS Discipline
Description
This volume of Annals of Information Systems will acknowledge the twentieth anniversary of the founding of the International Society for Decision Support Systems (ISDSS) by documenting some of the current best practices in teaching and research and envisioning the next twenty years in the decision support systems field. The volume is intended to complement existing DSS literature by offering an outlet for thoughts and research particularly suited to the theme of describing the next twenty years in the area of decision support.
Keywords
Economics, Information systems, Information Systems
Department
Department of Management
Object Description
xx, 224 pages : illustrations ; 24 cm.
Recommended Citation
Power, Daniel; Schuff, David; Paradice, David; Burstein, Frada; and Sharda, Ramesh, "Decision Support: An Examination of the DSS Discipline" (2011). Faculty Book Gallery. 464.
https://scholarworks.uni.edu/facbook/464