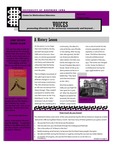 VOICES Newsletter, v6n2, March 2010
Description
Inside this issue:
-- CME Seven Book Club
-- Save the Date!
-- A History Lesson
-- A Word From the Director...
-- Dr. Barbara J. Berg
-- The Politics of Jesus
-- March Events
-- April Events
-- Hunger: Do you know the feeling?
-- Spring Break Trip
-- Featured Student Organization: African Union
-- Heart Healthy
-- Poet's Peak
This paper has been withdrawn.