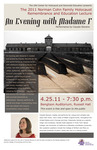 Keywords
Holocaust, Jewish (1939-1945), in music-Posters; Holocaust survivors' families--Posters;
Description
A poster announcing a performance of An Evening with Madame F. created and performed by Claudia Stevens.
Series
Norman Cohn Family Holocaust Remembrance and Education Lecture, 2011
Event Sponsor 1
Center for Holocaust and Genocide Education, University of Northern Iowa
Information about Lecturer
Claudia Stevens creates and performs her unique and complex solo plays with music, now a body of fifteen original works, throughout the United States and in Europe and Asia. Classically trained as a pianist, singer and composer, Claudia holds degrees in music from Vassar College, the University of California at Berkeley and Boston University. Her academic positions include the College of William and Mary as associate professor of piano, where she now is a visiting scholar.
Publication Date
4-25-2011
Publisher
Center for Holocaust and Genocide Education, University of Northern Iowa
Copyright
©2011 Center for Holocaust and Genocide Education, University of Northern Iowa
File Format
application/pdf
Recommended Citation
University of Northern Iowa. Center for Holocaust and Genocide Education., "An Evening with Madame F: Performance by Claudia Stevens [poster]" (2011). Center for Holocaust and Genocide Education Documents. 39.
https://scholarworks.uni.edu/chge_documents/39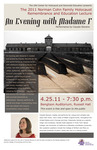 Included in
COinS