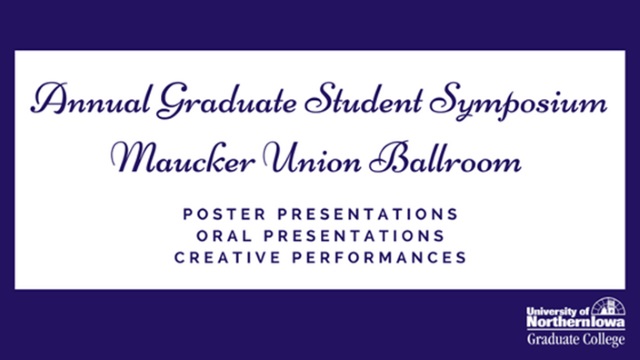 Welcome to the Ninth Annual Graduate Student Symposium at the University of Northern Iowa! In 2008 , our first Symposium was a two-hour event featuring only poster presentations in the Great Reading Room. Since that time in response to input by graduate students, and faculty this event has evolved to include oral presentations and creative performances as well as poster presentations held at several campus venues. The Symposium provides our graduate students opportunities to develop their presentation and performance skills, share their research and creative works, and build graduate community. Today we celebrate the breadth, depth, and quality of scholarship being done within UNI's graduate programs. During the day, you can see the poster presentations in areas that range from athletic training to geography to technology to social work while the afternoon's oral presentations include discussions ranging from history to psychology to special education to presentations in Spanish. This evening, there is the opportunity to enjoy student performances from the creative writing program, communication studies, and the School of Music.

The Annual Graduate Student Symposium is coordinated by the Graduate College.
Full Symposium Program (pdf) The official program distributed by the Graduate College in pdf format.
Browse the contents of 2016 Annual Graduate Student Symposium: